SACHSE FALLFEST IS TOMORROW…
OCTOBER 11, 2014 AT HERITAGE PARK.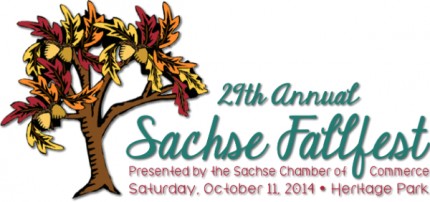 HERITAGE PARK IS LOCATED AT HUDSON DRIVE AND MILES ROAD BEHIND SEWELL ELEMENTARY SCHOOL. (CLICK HERE FOR A MAP)
FREE PARKING IS AVAILABLE AT SACHSE HIGH SCHOOL WITH FREE SHUTTLES RUNNING EVERY FIVE MINUTES TO THE FESTIVAL AREA. CLICK HERE FOR THE OFFICIAL WEBSITE.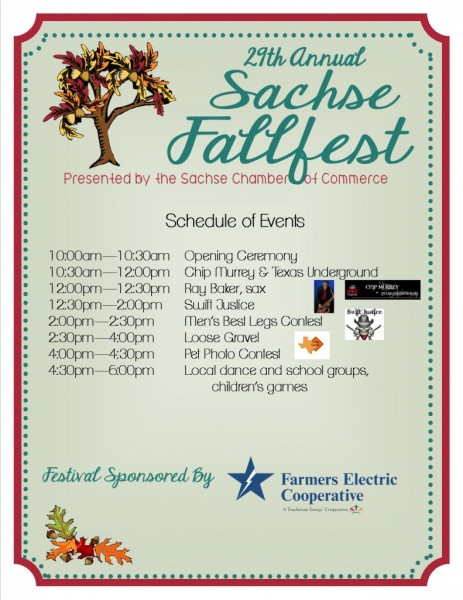 SACHSE FALLFEST FEATURES A LARGE VARIETY OF FOOD OFFERINGS FROM VENDORS AND FOOD TRUCKS, INCLUDING:
TURKEY LEGS
SAUSAGE ON A STICK
FUNNEL CAKES
CORN DOGS
TWISTER TATERS
FAJITAS
QUESADILLAS
NACHOS
CORN IN A CUP
KETTLE KORN
SNOW CONES
MEATBALL SUBS
NEW YORK STYLE PIZZA
WOOD-FIRED PIZZA
BARBECUE SANDWHICHES
GOURMET GRILLED CHEESE
GELATO AND ZEPPOLES
BRATS, REUBENS AND SCHNITZELS
HOT AND FROZEN COFFEE DRINKS
SPECIALTY FRUIT JUICE DRINK
DESSERTS ON A STICK
SMOOTHIES
JOIN US AT FALLFEST TO TASTE EVERYTHING THERE IS TO OFFER!
CHECK OUT THE SACHSE FALLFEST FACEBOOK PAGE.