WHAT IS AHMO?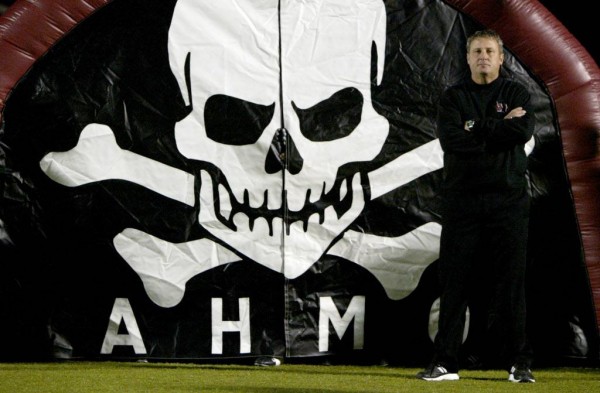 AHMO – IT SAYS SO MUCH IF YOU'RE FROM WYLIE, TX BUT THE REST OF THE WORLD THINKS IT'S A FOREIGN LANGUAGE. EVERY YEAR, SOMETIME DURING THE FOOTBALL SEASON, SOMEONE ASKS THE QUESTION AGAIN AND THE STORY GETS REFRESHED FOR ANOTHER YEAR.
THERE ARE THOSE WHO BELIEVE IT'S AN ACRONYM FOR AN AGILE, HOSTILE, MOBILE, OFFENSE. OTHERS OF THE DEFENSIVE PERSUASION SAY IT STANDS FOR ANNIHILATE, HUMILIATE, MUTILATE AND OBLITERATE. BUT ACCORDING TO THE FATHER OF THE AHMO TRADITION, THE YELL'S BEGINNING ARE A LITTLE MORE "GRIZZLY". AS IN GRIZZLY ADAMS, THE TELEVISION SHOW FEATURING A MOUNTAIN MAN WITH A BEAR FOR A BEST FRIEND POPULAR IN THE 1970'S AND PUNNED ON ANOTHER SHOW OF THE TIME, DEAN MARTIN'S CELEBRITY ROAST. THE AHMO ATTITUDE WAS ADOPTED DURING THE 14-YEAR TENURE OF JERRY SHAFFER, FORMER WYLIE HIGH SCHOOL TEACHER, ATHLETIC DIRECTOR AND HEAD FOOTBALL COACH. SHAFFER CAME TO WISD IN 1974.
LAST YEAR DFW CBS11 ASKED THE QUESTION AND RAN THE AHMO STORY.
HERE'S THE VIDEO – ENJOY!
IF YOU WOULD LIKE TO GO WATCH THE WYLIE PIRATES PLAY THERE ARE TWO MORE HOME GAMES LEFT IN THE REGULAR SEASON.
THE HOMECOMING GAME AGAINST THE PROSPER EAGLES ON OCTOBER 17 AT 7:30 PM AND THE SENIOR NIGHT GAME AGAINST THE LOVEJOY LEOPARDS ON OCTOBER 31 AT 7:30 PM.
IF YOU'RE NOT FROM AROUND THESE PARTS… THE FRIDAY NIGHT LIGHTS ARE AN EXPERIENCE THAT YOU SHOULD ABSOLUTELY NOT PASS UP!!!