IT WASN'T ANOTHER EARTHQUAKE… THAT LOUD RUMBLE WAS CAUSED BY ALL OF THE JAWS HITTING THE FLOOR WHEN NORTH TEXAS HOMEOWNERS OPENED THEIR 2015 PROPERTY TAX VALUATION.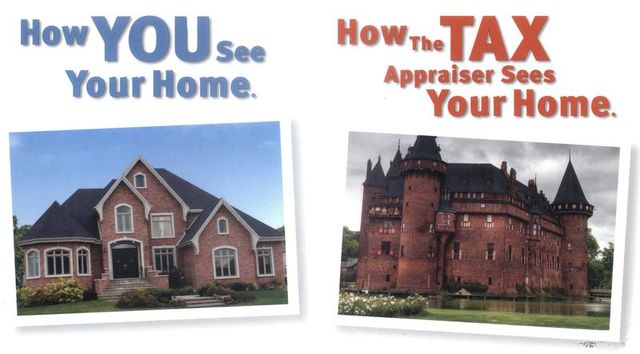 It's that time of year again… last week your property tax valuation started showing up in the mail and once again this year the values are way up! Usually that's a good thing, just not at tax time. City councils across the DFW Metroplex are claiming to have held the line on taxes and some are claiming to have decreased taxes for their constituents. However, with the increased valuations on residential property, most homeowners will actually realize an increase in the amount of taxes that they actually pay.
With the economy on the upswing, the truth is, the market value of your property really is up… SIGNIFICANTLY!!! That's a bonus if you are interested in selling your home, however, if you're not interested in selling your home in the near future you will be responsible for the taxes on the higher valuation.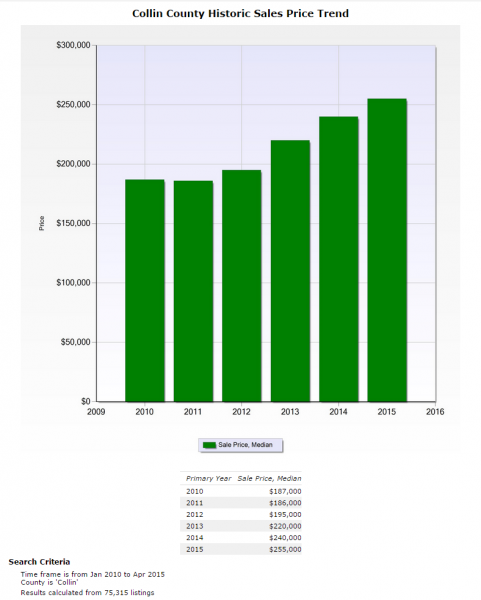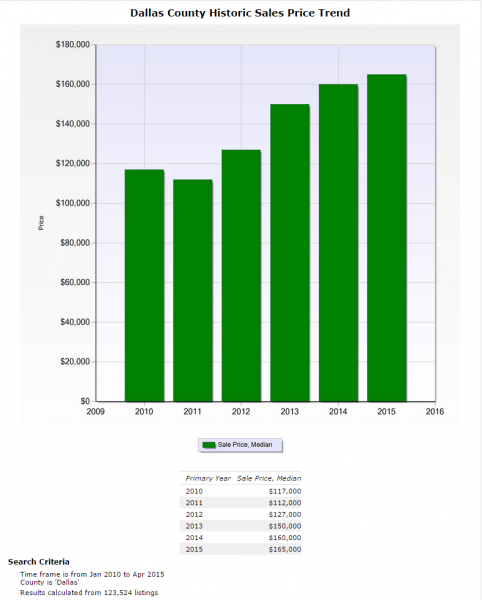 If you run the numbers, you'll find the median sales price in Collin County increased by almost 31% and Dallas County increased by almost 30% since 2012. Breaking the values out by zip codes reveals that since 2012 75048 has increased 31.5%, 75094 has increased 35% and 75098 has increased 32%. Looking at these number simply confirms the old real estate axiom that says "The three most important things about buying real estate is Location, Location and Location." This sales data comes directly from the North Texas Real Estate Information System (NTREIS) otherwise know as the Multiple Listing Service or MLS. It's the same information that a good Realtor would use to find comps for you home in order to determine the Market Value based on similar properties that have SOLD in your neighborhood.
WHICH VALUE ARE YOU LOOKING FOR?
I defined these values last year on this blog but am including them again this year for clarity. Market Value, Appraised Value, AVM's or Zestimates and Tax Assessment Values are not the same. When you want to Protest your 2015 Tax Assessment Valuation it is important to know which value you are talking about.
MARKET VALUE ~
The amount of money, in US dollars, which could be obtained for property exposed to the market for a reasonable period of time, where both parties are knowledgeable regarding all possible uses and defects with the property and neither party is under duress to consummate the transaction.
Wow… what does that mean? Simply stated, Market Value is what a reasonable person would be willing to pay for a property in the current market. One of the best sources of Market Value for your property is a Realtor that is familiar with your neighborhood and has the tools to research what similar properties in your neighborhood have recently sold for. When done correctly, the value will not simply compare price per square foot numbers or just be based on the number of bedrooms and bathrooms. The whole property should be considered with all of it's unique features and amenities. A quality Comparative Market Analysis (CMA) should use comparable homes that have recently sold and should take into account the location of all properties considered, the size and value of the lots they sit on, the size of the homes, the age of the homes, the number of bedrooms and bathrooms, the garage spaces available, the flooring materials, the kitchen counter materials and appliances, roofing materials, fencing, irrigation systems and anything else that will add value or take value away from a property.
Creating a quality CMA will take a good Realtor a couple of hours to create but will provide their clients with a very accurate estimate of the Market Value of their home based on the recent sale of other properties in their neighborhood. Amie and I are both certified as Seller Representative Specialists (SRS) and Broker Price Opinion Resources (BPOR) and if you are interested in selling your home, we would be happy to provide you with a Complimentary Market Analysis of your property. To request Your Market Analysis just CLICK HERE or send me a text (469-269-0911) requesting the market analysis with your address and an email address that you would like the Market Analysis sent to.

The Appraised Value is the opinion of value placed on a property by a licensed appraiser. The process used by an appraiser is very similar to the process described above. However, appraisers do not take into consideration current market or inventory conditions and rely instead on historical data to make their determination value. Again, this is the individual appraisers OPINION of value and may differ from the OPINION of a different licensed appraiser who evaluated the property on the very same day.
In real estate transactions, Appraised Values are used by lenders to determine the amount of money they are willing to offer for a mortgage. Appraisal standards also differ depending on the type of financing that is being considered. VA financing requires a VA appraisal and FHA financing requires an FHA appraisal. Both of these appraisals are done by pool appraisers that are randomly selected. Conventional financing is offered by mortgage lenders and require a conventional appraisal from an appraiser of the lenders choosing.
AVM'S OR ZESTIMATES ~
Automated Valuation Models (AVM's) use mathematical modeling combined with a data base of information to determine a property value. This is a technology driven valuation that comes from public record data and computer decision logic that calculates an estimate of the probable selling price of a residential property. The problem with AVM's is a lack of accurate data for the computer to work with. Some states do not disclose the actual value of property sales to the public. These states are called Non-Disclosure States and include Idaho, Indiana, Kansas, Mississippi, Missouri, Montana, New Mexico, North Dakota, South Dakota, Texas, Utah, and Wyoming. As the old computer programming adage goes "Garbage in… Garbage out."
The most well known real estate AVM is Zillow.com's Zestimate. Information from their web site states that nationally the Zestimate has a median error rate of 6.9%. However, Texas being a non-disclosure state, data which is generally publicly available is not accessible and the Zestimate Accuracy Table does not even attempt to report accuracy data for the State of Texas.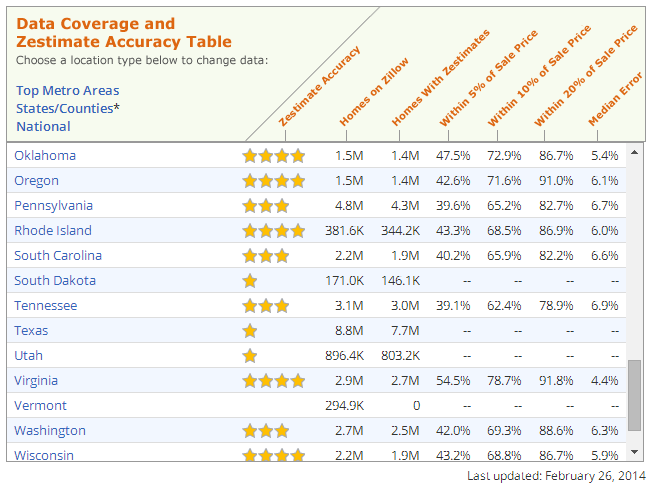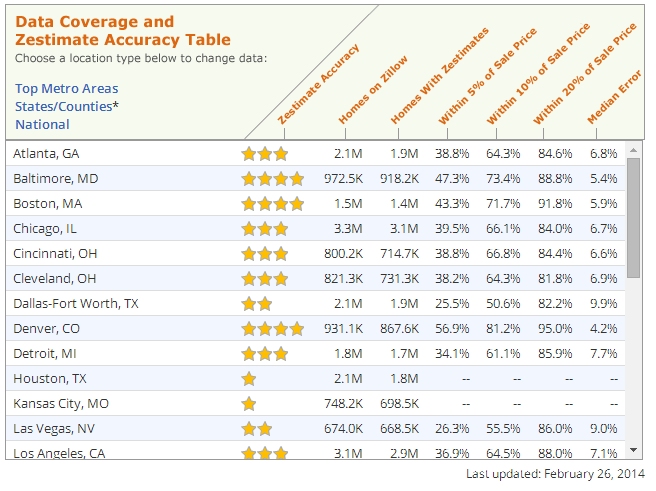 Zillow does attempt to collect data in Dallas/Ft Worth but still falls dramatically short on accuracy stating that they are within 5% of the sales price 25.5% of the time and within 20% of the sales price 82.2% of the time. On a $200,000 property, that translates to being more than $10,000 dollars off approximately 75% of the time and more than $40,000 off approximately 20% of the time.
TAX ASSESSMENT VALUE ~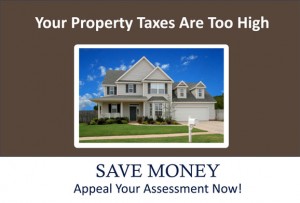 The Tax Assessment Value is the value reported on the Notice of Appraised Value that you just received in the mail from your County Central Appraisal District. Since your County Central Appraisal District has hundreds of thousands of homes to place values on they cannot possible consider each home individually so they use a process called Mass Appraisal.
Mass appraisal is a process used to value real estate when it is not possible to perform an individual appraisal for each property. The process usually involves compiling data regarding the physical characteristics of the property and market data such as rental rates, vacancy rates, expense rates, other income, capitalization rates, cost data and comparable sales data. Valuations are calculated using data for each subject property with the market data. Statistical processes including regression analysis are performed to develop an estimate of value for each property. This is the process typically used by appraisal districts in Texas to estimate the market value for real estate.
The Tax Assessment Value is determined by the county Central Appraisal District and used exclusively by the various taxing entities to determine the amount of tax you owe based on the value of your property. This is called the Ad Valorem Tax rate. For a property with a $200,000 Tax Assessment Value and a city tax rate of 0.770819 with no tax exemptions applied the tax owed on that property would be $1,541.64.
The mass appraisal process is an efficient method of placing value on an enormous number of properties but does not effectively place an accurate value on any individual property. Using the Economic Man Theory you learned in high school or college, everyone is responsible to look out for his own best interest, correcting the value placed on your property is your responsibility.
FIVE PROPERTY TAX BASIC RULES FROM THE TEXAS CONSTITUTION
Generally, all tangible property must be taxed on its current market value (effective January 1). The Texas Constitution provides certain exceptions, such as productivity values for agricultural and timber land. The property's market value is "the price for which it would sell when both buyer and seller seek the best price and neither is under pressure to buy or sell". Land used for farming and ranching, by contrast, can be valued on its capacity to produce crops or livestock instead of its market value. Such appraisal is called agricultural appraisal. Similarly, special timberland appraisal is available to property owners whose land produces timber for commercial use.
Taxation must be equal and uniform. All property, whether residential or commercial, must be taxed equally and uniformly. No single property or type of properties should pay more than its fair share of taxes.
Exemptions may exclude all or part of a property's value from taxation. All property is taxable unless a federal or state law exempts it from the tax. The Texas Legislature may provide certain exemptions.
Property owners have a right to reasonable notice of increases in appraised property value.
Each property in a county must have a single appraised value.
USING NUMBER TWO IS TYPICALLY WHERE YOU WILL SEE THE MOST SUCCESSFUL APPEAL OF YOUR PROPERTY TAX VALUATION.
THE MOST COMMON EXEMPTIONS CLAIMED UNDER NUMBER THREE ARE FOR HOMESTEAD, BEING OVER 65 YEARS OF AGE OR BEING DISABLED.
UNDER CURRENT TEXAS LAW PROPERTY TAX VALUATIONS CANNOT INCREASE BY MORE THAN 10 PERCENT IN A YEAR. IF YOURS HAS INCREASED MORE THAN 10 PERCENT YOU WILL GET A REDUCTION TO AT LEAST THE 10 PERCENT MARK.
HOW DO I PROTEST MY TAX ASSESSMENT VALUATION?
Since taxation must be EQUAL AND UNIFORM finding similar properties in your neighborhood that have a lower tax assessment valuation than yours will provide a basis for your appeal. This information is available on your County Central Appraisal District web site but these sites are typically not easily searchable by values. If you have a Realtor that you have worked with in the past, they will have access to tools that make searching the tax rolls much easier and they won't mind helping you find the comps that may support your protest. Because of the nature of the protest (this is the only time anyone is looking to prove there house is worth less than some other property) these comps are typically the ones that your Realtor doesn't want to use when pricing your property to sell. Give your Realtor a call and put them back to work for you.
USE THE INTERNET
Every Texas County Central Appraisal District is supposed to have a system for protesting property tax valuation on their web site. Once you have gathered evidence that the property tax valuation placed on your property is too high, go to the Central Appraisal District web site and use the online process to make your case. (Links to several County Central Appraisal District web sites are below)
USE THE INFORMAL APPRAISAL HEARING PROCESS
This is what I did last year. It requires more effort because you actually have to show up at the Central Appraisal District office and make your case in person. Some people like the convenience of filing their protest online… I personally think there is something about making an appraiser look you in the eye and tell you NO… and they might do just that… but they didn't last year. I didn't get everything I asked for but the appraiser did come down about $8,000 and I was happy about that. He wrote up the change, I signed it and I was out of there is less than an hour. If you go early in the month the wait is typically shorter… the closer you get to the June 1 deadline for filing an appeal the longer the wait will be.
FORMAL APPRAISAL REVIEW BOARD HEARING
If you tried the online protest or the informal hearing and were not satisfied with the results, you can ask for a Formal Appraisal Review Board Hearing. Since market values really are up, if you have already claimed all of the exemptions that you are due, your best bet to reduce your property tax valuation is based on presenting a case that the valuation of your property is not equal and uniform when compared to other properties in your neighborhood.
First, determine whether the property value is closer to market value than other, similar properties. Ask the appraisal district for appraisal records on similar properties in your area. Is there a big difference in their values? This comparison may show that your property was not treated equally. A ratio study or a comparison of a representative sample of properties, appropriately adjusted, for determining the median level of appraisal must be prepared to prove unequal appraisal.
This is one of the most common sections of the law used to reduce the appraisal districts value of your home. For your reference it is Texas Tax Code – Section 41.43 – Protest of Determination of value of Inequality of Appraisal. This is one of the few times that the rules favor the property owner instead of the appraisal district. The appraisal district sends out the Notice of Appraised Value and the property owner has the opportunity to file a protest in a timely fashion.
The property owner has three advantages when appealing on this point:
Click Here for a Sample HB 201 Letter.

The appraisal district has the burden of establishing the value of the property by a preponderance of the evidence presented at the hearing.
If you are going to a Formal Appraisal Review Board Hearing, by all means… SEND THE LETTER as soon as the hearing is scheduled! The appraisal board is only allowed to use the evidence that they have provided to you in advance. It's like having the other teams playbook two weeks before the big game!!!
SHOULD I MANAGE MY APPRAISAL REVIEW OR HIRE SOMEONE TO DO IT FOR ME?
Opinions are mixed on this one. Yes, you can do it yourself and statistically you will be able to get a positive result. You will have to do your own research on on Market Values and Tax Assessment Values but those numbers are available from your Realtor and your County Central Appraisal District. However, if you hire someone to do it for you, they have a staff of people that are familiar with the laws, systems and procedures used by the Appraisal Districts. CLICK HERE to see Dave Liebers Dallas Morning News story about filing your Property Tax Valuation appeal online.
IF I HIRE SOMEONE, WHO SHOULD I HIRE?
There are numerous tax attorneys and tax appeal companies that are willing to take your case to the Appraisal Review Board (ARB). Some of them work for a flat rate and others work for a percentage of the tax savings. Here are just a few that I came up with using an internet search. I have not personally used any of these and cannot endorse any of their results. I do know someone that has used O'Connor & Associates and they have nothing but good to say about the results they have delivered.
IF YOU USE A COMPANY OR AN ATTORNEY OFFERING PROPERTY TAX VALUATION REDUCTION SERVICES… PLEASE USE THE COMMENT SECTION TO LET US KNOW HOW IT WENT.
LINKS TO THE CENTRAL APPRAISAL DISTRICTS IN DFW
COLLIN CENTRAL APPRAISAL DISTRICT
(This one is more detailed because it's where I live and have more information available)
If you choose to protest your property appraisal yourself, You have several options.
1) The 2015 Notice of Appraised Value (the blue form you received in the mail) has a Property Appraisal – Notice of Protest for Tax Year 2015 printed on the reverse side. You can complete this form, include any evidence that you would like considered and mail it to the address at the top of the page.
2) You can request an Informal Appraisal Review by CLICKING HERE and following the procedures.
3) You can choose to file your protest online by using this link Electronic (eFile) Protest
If you choose to eFile your protest, the following conditions must be met:
You received an Appraisal Notice with your eFile PIN printed on the right front section of the notice. Your PIN will be used as your signature. Your PIN is case sensitive – ENTER IT EXACTLY AS IT APPEARS ON THE NOTICE.
The reason for your protest must be: 1) Value is over market value and/or 2) Value is unequal compared with other properties
HERE ARE VALUABLE LINKS TO RESOURCES FROM THE COLLIN CENTRAL APPRAISAL DISTRICT:
Forms – Notice of Protest, Homestead Exemption, Disabled Veteran Exemption, etc…
If you are claiming that the property value is too high or that the value is unequally compared with other property you are advised to use the CCAD Residential Sales Comparison Grid Model to make your case.
DALLAS CENTRAL APPRAISAL DISTRICT
The Protest Process – PDF with Hyperlinks How can I file my protest using uFile? – Instructions for filing your protest online
DENTON CENTRAL APPRAISAL DISTRICT
How to Protest Your Case at an ARB Hearing: A Homeowners Guide – from the Texas Comptrollers Office Protest Informational Videos Protest Related Documents and Forms
KAUFMAN COUNTY APPRAISAL DISTRICT
Protest Value Online Forms – Notice of Protest, Homestead Exemption, Disabled Veteran Exemption, etc…
ROCKWALL CENTRAL APPRAISAL DISTRICT
Rockwall Central eProtest Forms – Notice of Protest, Homestead Exemption, Disabled Veteran Exemption, etc…
Online Protest with eAccess Applications, Forms and Special Procedures ~ ~
**All market data was taken from the North Texas Real Estate Information System (NTREIS) on 05/5/2015**