WE'VE SEEN A LOT OF ACTIVITIES ABOUT "BACKING THE BLUE" AND I'M PERSONALLY A BIG BACKER OF OUR POLICE DEPARTMENTS. HOWEVER, IN THE CITY OF SACHSE IT'S TIME TO RALLY FOR THE RED!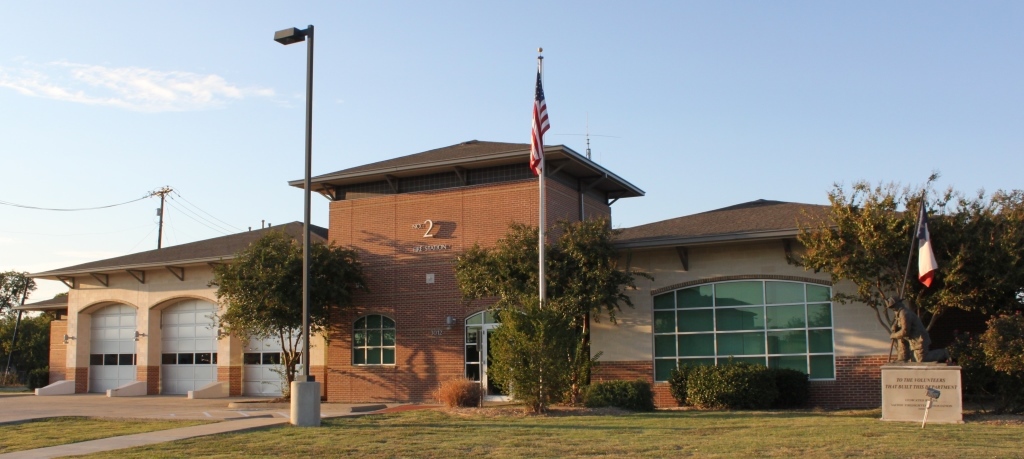 When I moved to Sachse, Fire Station Two was a fully staffed fire station practically in my backyard. When the municipal complex was opened in November 2010, the new Fire Station One was fully staffed with firefighters but they were quietly acquired from fire station two.
SINCE 2010, NONE OF THE FIRE EQUIPMENT AT FIRE STATION TWO HAS BEEN STAFFED WITH FIREFIGHTERS. SACHSE FIRE STATION TWO IS CURRENTLY ONLY STAFFED WITH TWO FIREFIGHTERS WHO ARE ASSIGNED TO RESPOND ON THE AMBULANCE.
Sachse Fire Chiefs have asked for additional staffing every year and during the economic downturn all of their requests were denied because of diminished tax revenues for the city. This year, Chief Coleman asked for six full time firefighters to replace the remaining part-time staff that is currently required to maintain minimum staffing on a daily basis. He did not ask for the staffing to fully staff Fire Station Two… He simply asked for enough full time firefighters to maintain the current daily staffing levels with Full Time Firefighters. At the August 3rd City Council meeting the City Manager recommended not funding the hiring of the six full time firefighters. She recommended delaying that hiring until a SAFER (Staffing for Adequate Fire & Emergency Response) Grant could be secured. The City Council voted on delaying the hiring of firefighters and approved the City Managers plan.
Last year the SAFER Grant application deadline was March 6th and the grants were awarded between June 1st and September 30th. If the application and award dates are similar this year, the Sachse Fire Department will have to operate without a minimum staffing of full time firefighters for possibly another full year.
In the Strategic Plan for the City of Sachse, Goal 5 states: "Meet the public safety needs of a growing citizen, student and business population." and Strategy Two under Goal 5 states: "Achieve a fully operational Fire Station No. 2." Two of the action items under this Strategy are to "Eliminate part-time positions and provide existing response ability with full time staffing." and "Add sufficient staffing for a fully-operational Fire Station No. 2."
I am excited that the plans for staffing station two are in writing, however, the timeline for implementing these plans stretch all the way out to 2019. The six firefighters that are being asked for next year in the SAFER Grant will have no impact on the ability to staff Fire Station Two, they will only allow the Sachse Fire Department to eliminate the need for part-time firefighters and to operate with full time personnel at the current staffing level. Staffing Fire Station Two will likely require 12 to 16 additional full time firefighters.
IF WE ARE GOING TO ASK FOR FIREFIGHTERS USING A SAFER GRANT, WHY WOULDN'T WE ASK FOR ALL OF THE FIREFIGHTERS NECESSARY TO REPLACE THE PART TIME FIREFIGHTERS AND STAFF SACHSE FIRE STATION TWO?
The staffing needs of the Sachse Fire Department have been know for a long time. The firefighters that serve the City of Sachse have been patient and have continued to meet the emergency service needs of the citizen, student and business population despite being critically under staffed.
NOW IT'S TIME FOR US TO RALLY FOR THE RED!
WHEN YOU SEE THE SACHSE FIREFIGHTERS, THANK THEM FOR THEIR SERVICE TO OUR COMMUNITY BUT DON'T STOP THERE… ASK THEM WHAT RESOURCES THEY NEED TO SERVE YOU BETTER.
If you want to give input to your city council or get the latest information on progress toward staffing Sachse Fire Station Two, attend a city council meeting and voice your concerns. If you would like to email your city officials, CLICK HERE to link to the Official Sachse City Council web site. There is a link on this page to "contact any council member or the Mayor" or you can click each member of the City Council's name and be linked to their email address.
LET'S RALLY FOR THE RED…
LET'S STAFF SACHSE FIRE STATION TWO!!!
***CLICK HERE to download a copy of the City of Sachse 2015 Strategic Plan