For a while now I've been talking about the invisible barrier that the mortgage rates seem to have had between 4.5% and 4.825%. Well, that invisible barrier may have just given way and it looks like mortgage rates are working toward 5%… possibly as soon as early next week.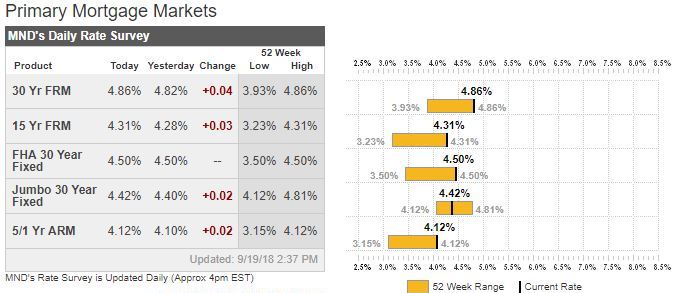 According to today's Mortgage News Daily,
Mortgage rates are in bad shape. At some point in the past 3 days (depends on the lender), top-tier 30yr fixed rate offerings hit their highest level in 5 years, then 7 years. For the first time since 2011, the most prevalent top tier rate is 4.875% (meaning a handful of lenders are at 4.75% or 5.0%). If this trajectory holds, the average lender would be at 5% next week.
In order to make the past few days relevant for anyone who reads this, let's focus on the CHANGE between today's average rates and those seen less than a week ago. From Friday the 14th, the average 30yr fixed quote is an eighth of a percentage point higher (.125%). While we've seen moves that big in the past, with only 1 or 2 exceptions, we haven't seen anything like it in 2018. And when we consider that it takes rates to their highest levels in 7 years, it's even more troubling.
Keep in mind that Freddie Mac releases its weekly mortgage rate survey tomorrow, which tends to be heavily weighted for Monday and Tuesday's rates. As such, there will be a barrage of headlinesthat say rates moved higher this week, but they likely won't capture the full extent of the move.
If you're thinking about buying a home and the interest rates are a motivator for you, it might be time to jump off of the fence. Give FireBoss Realty a call or shoot us a text so we can talk about your real estate goals and what we can do to help you achieve them.
Click Here to Download the FREE FireBoss Realty GPS Enabled Mobile APP…
Every Home Listed on the MLS in the Palm of Your Hand!!!
FIREBOSS REALTY IS A REAL ESTATE TEAM OPERATED BY TEXAS REALTORS SCOTT & AMIE JOHNSON UNDER THE BROKERAGE OF KELLER WILLIAMS ~ CENTRAL/75. EACH KELLER WILLIAMS OFFICE IS INDEPENDENTLY OWNED AND OPERATED.
.
.